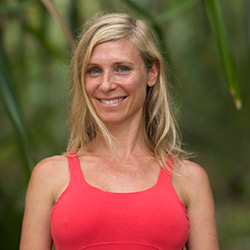 Join me for a week of luxury, wellness and rejuvenation. Florblanca's Personalized Pilates retreats are perfect for all types of celebration, connecting with friends, family or simply wanting a special get away from the daily routine of life.
All retreats include accommodations in our luxury villas, delicious, gourmet meals at our Nectar restaurant, Pilates workshop intensives and Pilates group mat classes customized for your group as well as Pilates privates & semi-privates in our fully equipped ocean front Pilates studio, adventure activities to choose from, such as: surfing, stand-up paddle boarding, mountain biking, running or hiking, spa treatments in our exquisite Bambu Spa, fresh coconut water after each fitness/adventure session and your daily choice of a fresh, healthy smoothie.
The weeklong retreat is a wonderful way to experience a deep level of wellness and vitality that will stay with you long after you leave the embrace of Florblanca Resort's serene setting. Against the backdrop of the gorgeous Santa Teresa coastline, we will explore, in-depth, Pilates practices that foster newfound awareness of movement patterns and profoundly affect the way we experience our bodies.
The retreat environment is ideal for creating long lasting transformation for the individual as well as deepening the connection between participants. With the help of practical information and exercises provided on a personalized basis, each participant will have the opportunity to take home a piece of this poignant experience. Personalized retreats must include a minimum of 6 participants and a minimum of 6 nights stay.
---
Features
6 night accommodations
15 meals at Nectar restaurant
2 spa treatments at Bambu Spa
2 adventure activities
2 private or semi-private equipment sessions
2 Pilates workshop intensives
2 Pilates mat classes customized for your group
2 open Yoga classes
Daily fresh coconut water and healthy smoothie
Rates
Honeymoon Suite/double only: $3200/per person
Ocean front villas / single occupancy: $2800/per person
Ocean front villas / double occupancy: $2600/ per person
Garden view villas/ king bed/single: $2600/per person
Garden view villas/king bed/double: $2300/per person
Garden view villas/twin beds/double: $2300/per person
Surf House/king bed/single: $2200
Surf House/king bed/double: $1800
Surf House/twin bed/double & triple: $1800
*Rates may vary according to any additions to the standard retreat offerings.