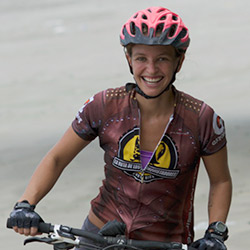 Florblanca Resort is pleased to welcome Monica, our Fitness Adventure leader! Monica was born in San Jose, Costa Rica in 1984. She moved to Santa Teresa in 2005 but went back to San Jose to complete her studies in physical therapy. She has now returned to our paradise in the Nicoya Peninsula where she has happily settled and started a family.
Monica discovered her love of mountain biking just a few years ago. She has since competed in many local races and twice in La Ruta de los Conquistadores famous adventure race. She loves to ride her bike in the rough and easy trails around the amazing mountain that surrounds the Peninsula.
Monica is the leader of our Mountain Bike Retreat where guests participate in week of organized, guided adventures and exploration mixed with relaxing and rejuvenating yoga, massage, and healthy, delicious meals. See details and more information below.

Mountain Bike Retreat
Join us in our beautiful Peninsula de Nicoya for the adventure of your lifetime. Our Mountain Bike retreats are made for those adventurers ready to explore paradise biking. You will experience mountain bike, Yoga, Pilates, surfing and Stand Up Paddle Boarding. An amazing week full of endurance, and relaxing time.
---
Package
7 days / 6 nights
Meals / All meals are included except Wednesday that is your day off .
4 mountain bikes ride.
2 Pilates sessions on the mat
1 Yoga session on the mat
1 surf or SUP lesson
1 60 min massage at the beautiful Bambu Spa.
---
Schedule
Mountain Bike in the morning 8:00 am Monday Tuesday and Friday.(time can varieties half hour to an hour)*
Breakfast at Nectar is at 7 am before the mountain bike rides.
Lunch at Nectar 1pm
Dinner at Nectar at 7pm.
Wednesday is your free day breakfast at Nectar (lunch and dinner on your own)
Pilates on the Mat 1hour at 4pm Monday and Tuesday
Thursday Morning choose from a surf lesson or a Stand up Paddle lesson varieties on tide chart.
Thursday afternoon Mountain bike 2:30pm
Yoga on the Mat 1 hour 3:30 Friday
Sunday eve Sunset welcome orientation & dinner at Nectar
Friday eve Sunset goodbye ocean front dinner
A 60 minute Massage you make the appointment when you arrive .
---
Rates
Honeymoon Suite/double only: $3200/per person
Ocean front villas / single occupancy: $2800/per person
Ocean front villas / double occupancy: $2600/ per person
Garden view villas/ king bed/single: $2600/per person
Garden view villas/king bed/double: $2300/per person
Garden view villas/twin beds/double: $2300/per person
Surf House/king bed/single: $2200
Surf House/king bed/double: $1800
Surf House/twin bed/double & triple: $1800
---
| Month | Checking In | Checking Out |
| --- | --- | --- |
| May 2014 | 18th | 24th |
| June 2014 | 8th | 14th |